Going through Job's story for the first time from the beginning to the end shed a new light on his life.
All I knew about him was what I heard from sermons, pastors, friends. He was a man who didn't curse God even through the darkest night, the stormiest of storms. He didn't curse God even when his wife told him to.
On the contrary Job was human, he exhibited  some of the traits that some of us would have if we we were in his shoes.
One head bursting thing about Job was what he did as soon as he heard of all the calamities that befell him.
Before I go there, just a quick highlight of who Job was and how he lived his life. 
Job was a man who sought to please God no matter what. He was extra careful not to get in the bad books of God.
He was so careful he sacrificed to God very often and even more whenever his children had thrown a party.
God blessed him abundantly, he was the wealthiest man from the East- Job 1:3 so of course his children could afford to throw parties very often.
He offered these sacrifices to God as purification for his children just in case they had offended God during thier merriment.
In present day, Job's act was like confession of, repentance from our sins. God's mercy is eternal, all we need to do is ask and be genuinely repentant.
God was so proud of him, like super proud of him he boasted about him to the devil. I honestly pray I get to that level God brags about me also.👏That is a feat!!!
Then the devil, in his jealous nature, in his bid to  sever the relationship between God and Job inflicted Job with so many calamities Job lost all his wealth and children in one day! He broke out with an awful skin disease. I
Now this is the head bursting thing I talked about earlier. In the know of all that happened; Job tore his clothes in grief and worshipped God. Job 1:20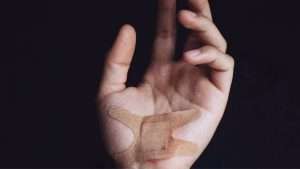 How many of you would still praise God after losing a child or a job or something extremely dear to us?
It ain't easy, but that is the standard. Praise God no matter what, Good or bad. That is some level I am sure God wants us live on, to praise Him not just because everything is okay at the moment. Praise Him for He is God, He deserves it all.
Praise Him because He has all power in His hands to do exceedingly,abundantly more than you can imagine. So move His hands, touch His heart through your praises.
I learnt one more thing or maybe two about Job, i would share in my next post God willing.