In church, I saw this really pretty Bible bag a beautiful woman carried to church.
Immediately I had a flashback tomine while I was a teenager. It wasn't half as cute though.
It contained  my bible and my note.
I remember I only opened my bag on Sundays only when I was asked by my teacher to open to a book in the Bible.
My Bible bag which was opened on Sundays, was usually dumped in a corner of my room during the week.
LOL! My bible and it's bag had a chilling spot in my room.
And the  bag just had a way of absorbing all the dust in the whole world 🙄
Thinking about it now ,that was a reflection of my relationship with God.
Rusty! I had no time for Him, i had relegated Him to a corner of my room just to be picked up only on Sundays.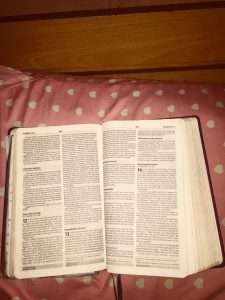 Hazy! 'Cause I had no clue who God was or is, I only knew the things I was told by my parents and teachers.
That is no way of knowing someone you love.
I don't have that bag no more, I don't make use it of it anymore.
My Bible and notes are on my bed where I can reach out for them with ease at anytime. I can neatly tuck into my hand bag as I hit the road.
I have my Bible and note on my mobile device as well which goes almost everywhere I go. Thank God for technology!
Literally signifying how closely and nearly I want my walk with God to be.
I have lost count of how many times God's word brought me comfort and peace of mind on my toilet seat at work.
On my desk at work, pondering about something or just  in need of "ginger" Then I get my answers as I Flipp through and read the pages of the Holy Bible.
I get really excited and fired up to go on with work.
Reading and studying God's word has increased my knowledge of God. I know Him personally, for myself now and yeah I share when I can. It has allowed me develop some level of intimacy with God.
Knowing God's word and His mind gives me direction, allows me to keep myself in check in accordance to God's   commands and will.
We all know that we all are spirit beings living in our flesh and we possess souls. The level of growth  our physical selves and souls achieve is greatly dependent on how healthy our  spirit  being is.
Reading and studying God's word is food, hence nourishment to our spirit beings.
See the need to read the Bible now?
I am thankful for my relationship with God, how  exciting and revealing it has been delving into His word.
So tell me how often do you read your Bible?